Tourism
Serbia is a country full of undiscovered beauty, that connects the magic of the old days, the wilderness of nature and modern life. Not many people know that, but you can spend wonderfull holidays in Serbia, filled with fun, beautiful views and delicious food.
One of the main reasons to visit is famous Serbian hospitality, the Serbs will make you feel at home, and you will certainly come back!
We invite you to get to know Serbia!
ATTENTION!
The official currency in the Republic of Serbia is the Serbian dinar (RSD):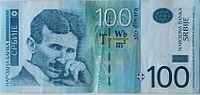 Coins and banknotes produced by the National Bank of Jugoslavia (Narodna Banka Jugoslavije), look similar, but they are no longer accepted! www.nbs.rs